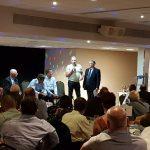 Saturday saw the exact anniversary of Wigan Athletic being elected to the Football League and 40 years on the squad that achieved that goal and started a fresh new world were reunited.
What a night it turned out to be, with the main focus on Noel Ward, Tommy Gore, Peter Houghton, Jeff Wright, Fred Eyre and Joe Hinnigan. The stories they told about how long and how much effort it took to be elected were enthralling.
Like one of the other player guests commented, it really was amazing what these guys went through 40 years ago. Plus after being elected they then gave up their jobs to become full time professionals, in most cases taking a pay cut.
Alan Muir, a Director at the time also came up to share what it was like behind the scenes, watched by the families of Arthur Horrocks (Chairman in 1978), Derek Welsby and Jack Sudworth (all directors).
The hosts Paul Rowley and Tommy Gore then went on to chat to players from across the eras, Kevin Langley, Barry Knowles, David Lowe, Nathan Ellington, Jason Jarrett and Emmerson Boyce all sharing memories about their time at the club.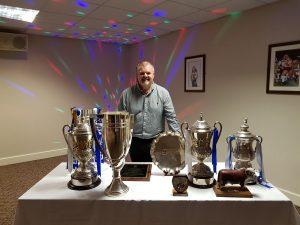 We had Board members from over the 40 years, Alan Muir I have already mentioned, we had Bill Kenyon up trying to put the record straight on his tenure, Brenda Spencer sharing how Dave Whelan really got to buy the Club and of course Jonathan Jackson bringing us up to date and allowing us an insight on the future.
If that wasn't enough, we also had all the trophies won over the years on show, and the fans that came were like kids in a sweat shop lifting and have their picture taken with all of them.
I would like to take the opportunity to thank a few people, namely the Kitchen, Service and Bar staff for their hard work on the night. The food was great and the atmosphere was superb.
The night couldn't have run without the help of Stuart Hayton, Andrew Werrill for help with the videos and Wigan Athletic for some really nice touches and the loan of the trophies and some the training ground prize in the raffle.
Of course the night would have been pretty bland had it not been for all the special guests, we thank them for taking the time to come over and make the night what it was.
We had some great prizes in our raffle, with Ann Draper winning her season ticket, plus the lucky winners of a training ground visit, hospitality at a game of their choice and a unique prize of an actual "we are going up" bottle of champagne from our promotion at Doncaster.
Here are a few photos: