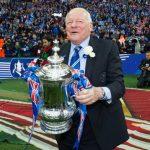 Dave Whelan celebrates his 80th Birthday today and part of this special day will be spent with the fans of Wigan Athletic.
Mr Whelan has also a special place in the hearts of all Wigan Athletic fans. He took us over when we were at the lowest point a football club could be.
He rejuvenated our Football Club.
He built us a new stadium.
He promised us top flight football, which we not only achieved but stayed there for 8 years.
He didn't promise the FA Cup, but that and the European Tour a year later was a great bonus.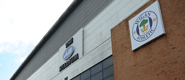 He has passed on a legacy that should see our club thrive in the future.
It is no secret that he is to have a statue unveiling ceremony today Thursday 24th November 2016. It is no secret that all fans are invited. It is though a secret (apart from Roberto Martinez and Emmerson Boyce) who from the club's past will be there.
The grand unveiling will be around 2.00 p.m., but Supporters are being advised to arrive by 1.30pm. The likes of Emmerson Boyce, Roberto Martinez and other past players and managers will also be there.
We haven't been told if the FA Cup is coming along, but there will be speeches and a live brass band performing before the actual unveiling by Mr Whelan himself takes place around 2.00pm.
Please visit our chosen Charity and sponsors: