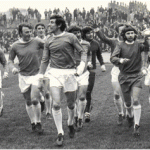 Geoff Davies was one of the players that goes back to the days when Wigan Athletic were desperately trying to get into the football league.
Geoff Davies signed for Latics in the summer of 1970 for a reported £800.00 from Northwich Vics.
He scored no less than five hat-tricks within the first three months of signing and ended up with 42 goals that season (1970/71) with Gordon Milne, Derek Temple, Jim Fleming and Graham Oates providing the ammunition as Latics powered their way to the Northern Premier League title.
Geoff also very nearly saved the day in the classic FA cup tie away at Manchester City when his header was touched onto the post by City's keeper Joe Corrigan in the last minute, oh how it hurt, and still does!
The following season he scored 28 goals, despite injuries, and was quickly signed up by what was at the time 'a bigger club', namely Chester City. A classic example of how some things at Wigan Athletic never change yet paradoxically, everything has changed!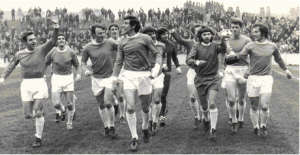 Geoff went on to have a successful league career with spells at Chester, Wrexham, Port Vale and Wimbledon. He also enjoyed a spell in the USA where he played with, and sometimes against, such world stars as Pele, George Best, Cruyff and Beckenbauer.
Geoff has many happy memories of playing for Latics and to this day recalls the physical demands of playing three times a week whilst travelling to training in fog, ice and snow.
If you want to meet Geoff and talk about the old days, he will be in the Supporters Club Bar prior to the game today against Cardiff.