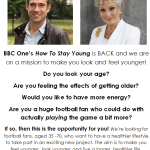 BBC One have been in touch regarding  show called How To Stay Young and they are looking for football supporters and in our case Wigan Athletic Supporters, to take part in the new series
Here is a little more information about the show:
Do you think you look your age?
Could you have a healthier lifestyle?
The How to Stay Young team are looking for people, aged 35 -70, from all over the UK, to show how you can turn back the clock and feel younger.
Using the latest scientific research on ageing, we are going to create a bespoke lifestyle plan to help everyone get their bodies back on track by attempting to slow down the ageing process.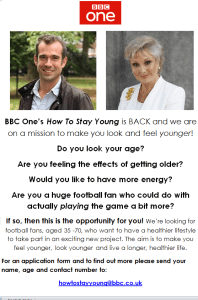 Our aim is to show our lucky contributors how to bring their biological age (how well their body has aged) more in line with their date of birth in just 12 weeks.
Most people in the UK will probably have an older biological age than their date of birth!
We are really keen to get some serious football fans who have a passion for the game but perhaps need to think about actually playing a little more involved in the project.
This is a great opportunity to make some really positive changes and to start feeling fitter and younger with the support of a team of experts!
If you are interested or want more information, contact us here on info@wastc.co.uk or contact the BBC direct with this application form: Click here for PDF document.