Things at Wigan Athletic are rather good at the moment, we have just beat our 'consecutive away wins record', we have beaten Premier League Bournemouth to progress to the 5th Round of the FA Cup and Paul Cook is appearing in the Supporters Club Bar on Saturday.
Latics went to the South Coast this weekend looking to beat their consecutive away wins record at Plymouth Argyle. The day didn't get off the best of starts with the home side scoring first.
But it only took Wigan Athletic two minutes to bounce back with Will Grigg bagging the equaliser. Gavin Massey scoring just before the break hit a knockout blow as we went in at half time leading 1-2.
Superman Dan Burns sealed our sixth away victory on the trot with 20 minutes left to play, securing the three points and extending our lead with a 5 point gap now at the top of the league, full match report here.
Credit has to be given for the hundreds of Wigan fans that made the longest trip we will have to make this season, on the back of Bournemouth, Northampton, Oxford and Wimbledon – we have clocked up some serious miles in our last 5 away games.
Next up is the small matter of a 4th Round FA Cup match against West Ham United. The Hammers will be looking to continue their rich form at the moment, whilst Wigan will want a 3rd appearance in the FA Cup 5th Round in 5 years.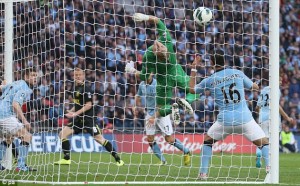 Latics famously won the FA Cup back in 2013, beating Manchester City 1 nil with a Ben Watson header late into the game. So, FA Cup glory will still be in the minds of the fans and this time maybe we can seal it with promotion too, rather than relegation like last time.
The odds are ominously quite even for us as currently Wigan Athletic are at 2/1 to win the game. They are great odds for the upset and let's face it, we love causing those and especially at the Premier League teams expense. Other bets that could be of interest would be the both teams scoring or time of the first goal.
The Supporters Club are running an event where you can meet Paul Cook straight after this game, hopefully with our name in the hat for the next round. Ticket for this event are on sale via the website or by coming along to the Supporters Club Bar prior to kick off.