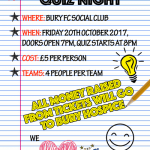 The inaugural North West Football Quiz is just 2 weeks away!
We have been asked to promote this by our friends over at Bury Football Club.
They, along with 22 other companies, have entered a competition to raise as much money as possible for Bury Hospice.
With this in mind, they are delighted to announce the inaugural North West Football Quiz!, which implies this could be done every year and rotated around the different Clubs, but for this year the emphasis is obviously on Bury.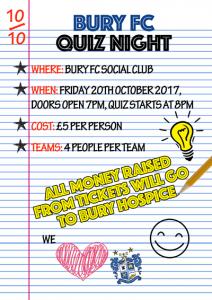 It is to be held at the Bury FC Social Club on Friday 20th October, teams will be made up of representatives of as many North West football teams as possible!
Teams will be made up of no more than 4 people, and the cost per person is £5 – with 100% of all ticket money going straight to Bury Hospice!
Teams can be made up from players, management, staff or fans – it's up to you!
There is no limit to the number of teams that can enter – the more entries you have, the bigger the chance our Club has to come out on top!
Doors will open at 7pm for an 8pm start.
If you are interested in entering a team, please e-mail: info@wiganathleticsupportersclub.co.uk and we will pass on your details to Ben at Bury FC who will contact you direct.
Pride is at stake – so let's get as many Wigan teams as is possible entered?
Please visit our chosen Charity and sponsors: