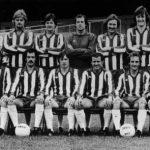 Wigan Athletic Supporters Club are hosting an Evening of Celebration after the club reaches it's 40th year of election to League Football.
The night will be amazing, bringing together the best from Wigan Athletic History, reuniting chairmen, managers and players from across the forty years, including some of the original and more recent ones.
Names like Bill Kenyon, Mick Worswick, Jeff Wright, Andy Liddell, David Lowe, Graham Jones, Nathan Ellington, Jason Roberts, Carl Bradshaw, Emmerson Boyce, Steve Bruce, Paul Jewell, Paul Cook and many others that have taken Wigan Athletic from non-league to the present day, have been invited to come along and celebrate this amazing anniversary with us.
The Dinner will be on Saturday 2nd June 2018 in the DW Stadium South Stand Suite. Arrival at 7.00pm for a 7.30pm start. Firstly with a 3 course meal with coffee being taken before the guests are introduced and a trip down memory lane begins.
The night will be hosted by Latics Legend Neill Rimmer, with all the usual raffles, give aways and mingling opportunities we always give.
More details will be added as we get them, please come back to the website.
Tickets are £30 and can be booked online securely by clicking here, or in person at the Supporters Club Bar at any home game.