Supporters Club Bar, for Blackburn Rovers game 28th October 2017
The Supporters Club will be open as usual from 12.30 p.m. prior to the Skybet League 1 game against Blackburn Rovers on Saturday 28th October 2017, kick off 3.00 p.m..
Located behind the South Stand, there will be the usual drinks and food on sale plus we will have craft ales on sale and we have Chonkinfeckle performing.
Alan Mahon and a first team player will be visiting us for a chat, food will have a local flavour and coach bookings will be taken for Rochdale and Rotherham.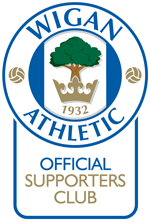 Whatsmore the Bar will be open to all Wigan Athletic fans, though Supporters Club Members arriving before 1.30pm will get a free pie, it is looking like a pre match menu not to be missed.
We will be giving out all of the latest news over the PA System in the run up to the game, including the team sheets and any special events that may be happening.
You will be able to buy the match day programme, win a big cash prize with the Latics Lotto and of course betting facilities for those wanting a flutter.
If there is anything you would like to see, hear or have announced please email us beforehand on info@wiganathleticsupportersclub.co.uk.
Coach Bookings will be taken for: Rochdale and Rotherham, if you can't wait or don't want to queue, please consider using the secure online booking page here on the website, just click here.
Please visit our Sponsors and Charity Partners: