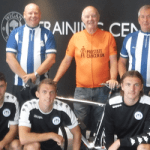 After a very successful 2017 where over £44,000 was raised for Prostate Cancer UK, the team at L2A are already planning for a bigger and better ride in 2018.
Registration is open so this is a great opportunity to get in early and raise as much as possible before next June, plus get a £50 discount for registering early.
Two years ago Wigan Athletic Supporters Club Committee Member and Cockney Latic co-editor John Heeley and fellow Committee member Peter Mulqueeney, decided to get on their bikes to represent Wigan Athletic on the Prostate Cancer ride to Amsterdam, an organised event open to all football teams across the UK.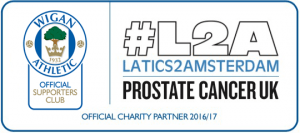 Since then more Latics (and even some Warriors) fans have jumped on board to raise money and do the ride under the banner of Wigan Athletic.
Peter is a keen cyclist and makes sure that a programme of rides is put together over the months prior to the main ride, so everyone is ready an prepared when the 'Grand Depart' day arrives.
Countless charity events have been created over the years and they have become part of the calendar for a lot of Latics fans and this year will be no different, promising to be bigger and better than previous years.
The Supporters Club have them as this year's charity partner and has always been right behind them and countless supporters club members are already on the list to do it next year.
Here's what you need to know about #F2A2018
You'll be part of Football to Amsterdam – the biggest ride and party in football, backed by the English Football League and League Managers Association.
The ride takes place on 1-3 June 2018, just two weeks before the World Cup kicks off.
Leaving rivalries on the pitch, this is your opportunity to meet likeminded fans, staff and legends of the game from across the country and embark on an epic pedal-pilgrimage to Amsterdam.
You'll find the 145 miles over two days of cycling will fly by as the camaraderie and banter carries you through to the Amsterdam Arena.
By training for the ride you'll find it's a great way to get fit and shed some pounds in the lead up to the summer.
The money you raise will go towards better diagnosis and treatment, because it's not acceptable that one man dies every 45 minutes from this disease.
Overall, you'll have an unforgettable weekend away with support vehicles and food provided, unlimited football banter, lifelong friendships made and most of all, you'll be doing something amazing to beat prostate cancer.
Keep in touch with everything that is going on via the Wigan Athletic representatives at Latics2Amsterdam
What, you've already decided to do it and want to rigister now!!! Great, just go here: Registration for 2018 (£50 discount)
Please visit our chosen Charity and sponsors: