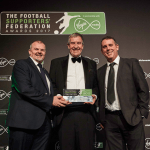 Wigan Athletic Award Winning Supporter Liaison Officers
Last Monday the Wigan Athletic Supporter Liaison Officers went down to London (to the Tower of London no less) for the National Football Supporters Federation Awards after being short listed for their category.
SLOs from Leicester, Preston North End, Grimsby Town, Millwall and Middlesbrough were also nominated and they were all assessed by an FSF panel as to what impact at their clubs they had been.
The Awards Ceremony started around 6.30pm and after 4 hours of watching all the other categories being announced, the decision was to be announced for the 2017 Supporter Liaison Officer of the year.
We extended our congratulations in the Supporters Club Bar to both of the SLOs and caught up with Jason Taylor, one of the Wigan Athletic Supporter Liaison Officers before the Fleetwood Town game.
Jason Taylor is also a Wigan Athletic Official Supporters Club Committee Member and because of this we have a very close ties with at least one of the SLOs. We wanted to find out what it was like when it were announced that Wigan Athletic SLOs Jason and Ian had won, here is what he had to say:
Jason Taylor said "It is an amazing honour to be even nominated for the award, never mind win it. So when our names were announced as the winners we were in shock, considering the rest of the candidates were so strong.
"There were some really strong contenders in there and we are chuffed to bits to be the first non-employee of a Football Club to win. Our role does tend to be very much in the background, in a sense that fans only find out what we have done when it concerns them or their mates, communicating our endeavours is something we hope to change.
"We have made great strides in the role over the last 4 years, I remember being in Maribor just a few days into the role when I experienced my first task in the role.
"On seeing a woman crying because she had lost her and her daughter's ticket I was able to get in touch with someone who could issue a duplicate. You can imagine her reaction, and from then on I knew that a lot of good could come from a fan being in this role.
" Since then we have been involved with holding Fans Meetings, where season ticket pricing, the style of kit and even the replacement of the concourse catering company have seen the fans input change Club Policy.
"Helping fans is what we are here for, wanting the Club and the Supporters to work hand in hand, Making the match day experience as good as it possibly can be by taking on board criticisms and putting forward ideas.
"I have to give a lot of thanks to the Club for their support and also to my colleagues at the Supporters Club whom give me the opportunity to be in front of the fans week in and week out.
"There are plenty of others at the Club from Jonathon Jackson to Steve Reeves, Shaun Currie, Jonty Castle, Antony Clark and more recently Dave Whittaker who enable us to fulfil our role in a professional manner. Sorry if have missed people by name.
" We don't just want to sit back on this award though, as we know there is plenty more to do and we want to be the pioneers in the SLO project in the UK, so with the fans and Supporters Club help and suggestions we will be able to take it to the next level.
It is a great award for Wigan Athletic and the SLOs to win and we wish to congratulate them on this achievement. Unfortunately Ian wasn't at the game on Saturday, but we hope to extend our congratulations in person on Tuesday to him also.
The winners of the 2017 FSF Awards in partnership with Virgin Media:
Men's Player of the Year
Harry Kane (Spurs)
Women's Player of the Year:
Jill Scott (Manchester City Ladies)
Away Day of the Year:
Swansea City
Blogger of the Year:
Kieron O'Connor (Swiss Ramble)
Club Podcast of the Year:
Amber Nectar
Commentator of the Year:
Martin Tyler
Fans for Diversity Award:
Blues 4 All
Fanzine of the Year:
The Gooner
Newspaper of the Year:
The Guardian
Lifetime Achievement:
John Motson
Online Media of the Year:
Football365.com
Podcast of the Year:
Football Weekly
Pundit of the Year:
Gary Neville
Radio Show of the Year:
606
Supporter Liaison Officer of the Year:
Jason Taylor and Ian Wadsworth (Wigan Athletic)
Writer of the Year:
Jonathan Wilson