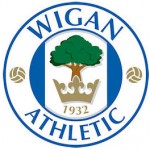 For those that came into the Supporters Club Bar prior to the Reading game, you will have seen the Under 10's Wigan Latics Ladies Team collecting donations for kit in 2017.
They are a self funded team and so need to constantly raise money so they can keep developing and playing football.
The collection they did in the Supporters Bar raised over £150 and they wanted us to thank all of you that donated on their behalf, it is very much appreciated.