The 2014/15 campaign was a testing one for all concerned with Wigan Athletic, especially those who invested their hard-earned money in the purchase of a season ticket.
Those struggles are well-documented and should remain where they are currently rooted – in the past.
It is, however, important to remember where you came from when summarising the present and plotting a course for the future.
With that in mind, on the third weekend of September, it is worth turning the clock back in order to pass judgement on quite how dramatically fortunes have changed at the DW Stadium.
On 20th September 2014, the Latics slipped to a 2-1 reversal against Ipswich Town – a result which would place them on a slippery slope to League One.
From that point, having gone unbeaten on home soil up until then – including the securing of two victories – a forgettable run would see a loyal fan base forced to wait until 18th April 2015 before toasting another success, by which time the damage had already been done.
Fittingly, 12 months on, the tide has well and truly turned.
A 2-1 victory over Fleetwood Town on Saturday was a third on home soil overseen by Gary Caldwell this season.
To put that into perspective, the Latics have hit that mark in just their fourth outing in front of their own supporters, as opposed to 22 last time around.
Looking at the season as a whole, it was the eighth instalment on a third tier schedule, while 44 games were required to give the locals a third victory to savour in 2014/15.
From mid-April to mid-September, the outlook is suddenly a lot brighter.
It is also important to note that the Latics are yet to taste defeat at the DW in the league this season, with dark clouds having dispersed to allow the warm glow of optimism to sweep around the club once more.
We may only be eight games into a 43-legged marathon, but shaking monkeys from the back was always going to be vital during the opening weeks and months.
FULL TIME!! All over at the DW Stadium! Latics 2 @ftfc 1! #wafc pic.twitter.com/NQcGvjFDKU

— Wigan Athletic (@LaticsOfficial) September 19, 2015
Caldwell's men are doing just that.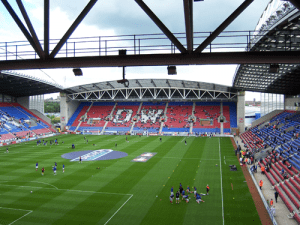 Saturday's meeting with Fleetwood saw their defensive unit breached for the first time at home, while two more additions were made to a goal-getting tally which now stands at six – a third of the way towards hitting the return from the whole of last season.
It would be foolish for anyone to get ahead of themselves, given what happened in 2014 from this stage of the calendar year, but closing in on the promotion-chasing pack – just five points adrift of leaders Burton Albion – provides a solid base on which to build.
Smiles have returned to the faces of those around WN5 and, having been a solid bet for anyone indulging themselves with a weekend accumulator last season for all of the wrong reasons, Wigan are now offering a greater return to their backers on and off the field – with there every reason to believe that the DW disaster that was 2014/15 can be transformed into a DW delight in 2015/16.