WASC News
Wigan Athletic Supporters Club are based in the South Stand Suite. On match day, our doors usually open around 2 hours 30 minutes before the game starts. The latest news item is below, but please keep looking back on the website for all of our latest news.
No wastage: Homeless get free pies too
Big Pie (and Prize) give Away
On Saturday, Wigan Athletic Supporters Club had our annual 'free pie and peas' match, where every member of the Supporters Club received a free pie and peas to thank them for their support.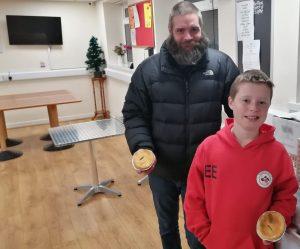 Over 250 pies were claimed and enjoyed in the Supporters Club Bar and as a special treat we had a prize draw.
It really does pay to be a member of the Supporters Club, as on top of the great food and drink deals in the Bar and top class coach travel,  we also have these draws too, where 5 lucky winners received an invite for 2 people to have a VIP tour of the Training Ground.
2 further winners won hospitality to the Derby County game and Millwall game. Even though Latics didn't win, Wigan Athletic Supporters Club made 7 fans very happy on Saturday.
As there were quite a few pies left over, Vice Chair Mick Wimsey, abley helped by his sone Ethen, took the remainder to the Homeless Support Project in Leigh.
HSP is a charity organissation set up to help the homeless with food and advice, and they were extremely grateful for this donation of pies by the Wigan Athletic Supporters Club.
Want to Join The Supporters Club?
Wigan Athletic Supporters Club is a non-profit organisation which allows us to keep the costs low for travelling to away games, without compromising safety, comfort or security click here to apply.
Membership of the Supporters Club also gives extra benefits in the Wigan Athletic Supporters Club Bar, which provides a safe place for fans to go a couple of hours to chat and meet before most home games.
Click 'Get involved' for more information on the huge benefits of membership.