Paul Cook arrived at Wigan Athletic with a decent reputation in the lower leagues, particularly in League One and League Two where he was known for playing fast flowing, open and expansive football in a division where many teams didn't.
Chesterfield adored Cook after instilling a way of playing that enabled the club to reach League One under him – essentially punching well above their weight judging by the dire straits the National League club is in now – and Portsmouth, a club who have certainly had their fair share of managers in recent times, were generally sad to see him go after 'Cooky' guided Pompey to the League Two title.
Fast forward to 2019 and the end of the Championship season, and Cook has delivered similar results at Wigan Athletic in a highly competitive division, with some clubs spending the sort of sums of money Latics fans can only dream of being spent on Wigan's playing squad.
A number of sports betting companies were expecting Wigan to head straight back down from the Championship, with similar predictions expected to be made in the new season. The Latics are currently priced at 5/2 (888sport) to go down and are one of the favourites for the drop. Cook and his players won't mind, though, and will be keen to progress further with the 'underdog' tag well and truly hanging over their heads.
Perhaps unlikely, although certainly not out of the question, Wigan are priced at 50/1 (888sport) to gain promotion from the Championship too, although simply avoiding relegation and cementing the club's Championship status will surely be considered a solid season once again, with odds on Cook's side to simply avoid the drop being priced at 1/4.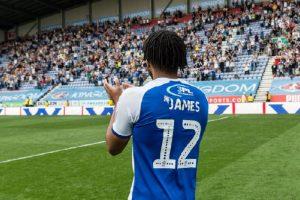 With Wigan's away form being so atrocious last season, the fact Cook and his players managed to turn it around and survive in the division almost felt like winning the league for some Latics fans. The job Cook did on limited resources was, put bluntly, nothing short of magnificent.
This is a manager in Cook who, after a successful playing career where he played for a number of clubs including Wigan, has earned his stripes in the lower league game and appears to have stamped his authority at Wigan now. He's given the club a real sense of belief, a clear direction and has the majority of the fanbase well on-side. Alongside all of that, Cook has established himself as a Championship manager also and looks set to have learnt the lessons from the season gone by and will no doubt be keen to kick the club on even further in the new campaign.
Wigan's away form, as touched on earlier, was a huge issue for them last season, with Cook undoubtedly looking to address that in the summer. Speaking after the 1-0 home win against Millwall on the last day of the season, Cook said: "The home form's been so good, especially in the latter stages of the season. Unfortunately the away form – with the same players and the same habits – hasn't been as good, and that's been a challenge."
Clearly delighted with the overall outcome from the season though, Cook added: "But to end up with 52 points in this league, it's such a reward for the efforts we've put in as a group and a staff."
A massive summer of recruitment awaits Wigan Athletic but with Paul Cook in charge, Latics fans can be safe in the knowledge that their club is in good hands, with an ambitious, hungry manager at the helm.