WASC News
Wigan Athletic Supporters Club are based in the South Stand Suite. On match day, our doors usually open around 2 hours 30 minutes before the game starts. The latest news item is below, but please keep looking back on the website for all of our latest news.
Players ask fans to watch from home
WASC is delighted to see that the takeover has officially been completed.
read more
This has been an unprecedented season for Wigan Athletic and the Wigan Athletic Supporters Club. Firstly with us being put in to administration, but also through the devastating restrictions the COVID19 pandemic landed on us.
read more
Stay away from Stadium, players ask
The players have asked for fans to show their support by buying a tv pass rather than coming down to the stadium. Several posts on social media were found actively asking fans to break lockdown rules by coming down to the DW Stadium to clap the players.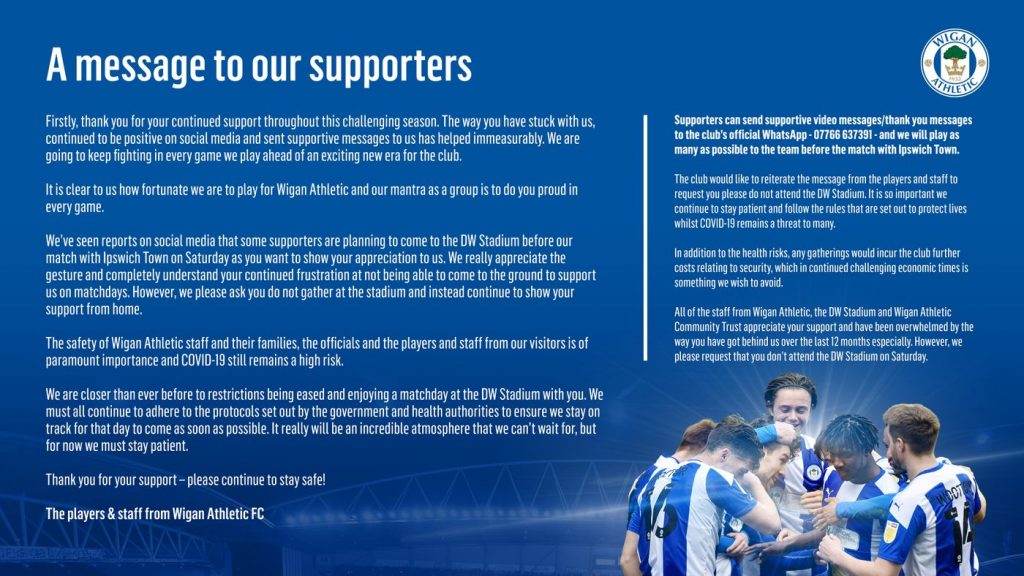 Supporters can send supportive video messages/thank you messages to the club's official WhatsApp [07766 637391] and we will play as many as possible to the team before the match with Ipswich Town.
The club would like to reiterate the message from the players and staff to request you please do not attend the DW Stadium. It is so important we continue to stay patient and follow the rules that are set out to protect lives whilst COVID-19 remains a threat to many.
Any gatherings would incur the club further costs relating to security, which in continued challenging economic times is something we wish to avoid.
All of the staff from Wigan Athletic, the DW Stadium and Wigan Athletic Community Trust appreciate your support and have been overwhelmed by the way you have got behind us over the last 12 months especially. However, we please request that you don't attend the DW Stadium on Saturday.
Want to Join The Supporters Club?
Wigan Athletic Supporters Club is a non-profit organisation which allows us to keep the costs low for travelling to away games, without compromising safety, comfort or security click here to apply.
Membership of the Supporters Club also gives extra benefits in the Wigan Athletic Supporters Club Bar, which provides a safe place for fans to go a couple of hours to chat and meet before most home games.
Click 'Get involved' for more information on the huge benefits of membership.