Wigan Athletic Supporters Liaison Officers provide a direct link into the football club, allowing fans to put their thoughts and views across on any subject they wish.
Latics have appointed Jason Taylor and Ian Wadsworth, both fans of Wigan Athletic, and so moving away from the conventional way of appointing somebody employed by the football club.
The aim of having fans as SLOs is quite simple, to improve the good relationship between Wigan Athletic Supporters and Wigan Athletic Football Club. The role is fully backed by UEFA and is an independent position unaffiliated with any single department within Wigan Athletic.
So who are these Supporter Liaison Officers?
JASON TAYLOR
Jason is a Director of a local website design, development and marketing company and is also on the Wigan Athletic Supporters Club Committee as Head of Media and Webmaster.
Jason has watched Wigan Athletic since the mid 1970's and has followed Latics through thick and thin in all this time, he now brings his young family to the games.
As Jason has been a part of Latics home and away following for close to 38 years, plus the time he has spent with the Supporters Club, it means his face is already pretty well known by fans and staff at the Club.
He is very approachable and will always try to help out where he can.
IAN WADSWORTH
Ian Wadsworth works for a local firm of Solicitors and has been a Wigan Athletic fan for a number of years.
Ian takes his young son to watch Latics with him and believes that it is important that there is an effective communication between the club and the supporters.
Ian is happy to speak to supporters and help out as regards any queries or concerns that they may have.
---
Jason and Ian can be contacted by any supporter of Wigan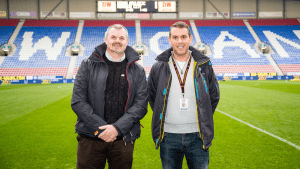 Athletic, to discuss any concerns or ideas regarding the stadium, tickets, away travel, match day entertainment, stewarding, policing, the media, or just about anything else that supporters may have an issue with.
They hold regular meetings with the Wigan Athletic management, the club's Security Officers and the various online unofficial supporters groups; this will enable the club to hear all views before any decisions are made.
Recently the Latics Fans Advisory Board has been set up, which brings together 15 fans, management of the club and the SLOs in one room once a month to go through issues.
The SLOs work is very much dependent on the information they receive from both sides and the credibility they enjoy with all parties.
Jason and Ian are available to speak to supporters at both home and away games. On home match days the SLOs will be available in the Wigan Athletic Supporters Club and try to get round some of the lounges prior to kick off. After the match they can again be found in the Supporters Club Bar in the South Stand Suite.
At away matches one or both SLO's will attend most games, travelling with Latics' supporters and will be available in the away section of the ground.
Prior to Wigan Athletic away fixtures they will be contacting the opposing club SLOs so that our supporters will have all the updated information to make their day run smoothly.
Jason and Ian can be contacted via the following methods:
Post: Supporter Liaison Officer
Wigan Athletic Football Club
DW Stadium
Loire Drive
Wigan
WN5 0UZ
Email:jason@wiganathleticslo.co.uk or ian@wiganathleticslo.co.uk