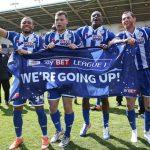 Will Latics Make It Back to the Championship this Season?
Wigan Athletic has set their sights on being promoted to the Championship at the end of the year. The general consensus among fans and insider experts is that getting there will not be easy, but success is very possible. Betting sites have gotten behind the Latics quest for a Championship spot and fans are fast betting in their favour. Take a look at the odds and what Wigan's chances are.
All Teams are Hungry for Success
Currently Latics are second on the League One table, under Shrewsbury Town, even after losing 1-2 to Bradford City on the 18th of November. Having been relegated last season, they are keen to make a comeback and have been showing it in the performances that have earned them enough points to gain that table position. It hasn't been an easy or a quick turn around, but the team and Paul Cook are both aiming for success. With Cook having signed on for 3 years, there is also a greater feeling of stability, and this can lead to greater success. Cook has had 3 consecutive triumphs, including leading Portsmouth to League One promotion in the 2016/2017 season. He has demonstrated his ability to get a club to the second tier, and now will have the chance to the top-flight level.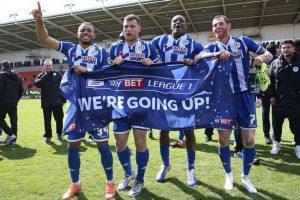 Aside from Shrewsbury Town and Wigan Athletic, the top 5 spots on the League One table are filled by Bradford City, Scunthorpe and Charlton. Their best odds, respectively, are 7/2 from Paddy Power, 5/2 from Paddy Power and SkyBet, and 7/2 from a whole host of top bookies.
Shrewsbury, with top odds of 1 from Paddy Power, are just as eager as Wigan to deliver performances that secure their place in the championship, having been just shy of relegation-level scores in the previous 2 seasons. There is every chance of the Latics clinching a promotion or even an outright win, but they need to remain focused.
Current Odds for Wigan Athletic
Wigan Athletic's odds for earning a place in the Championship are good at all reputable online bookmakers. This can change quickly, so it's important to keep an eye on what odds the bookies are positing when it comes to placing your bets. At the moment, they are the favourites for promotion at the top online sportsbooks in the country, with the following odds of going back to the Championship:
Bet365: 1/5
SkyBet: 1/6
Ladbrokes: 1/6
William Hill: 1/6
Sportingbet: 17/100
The Sun Bets: 1/5
Paddy Power: 1/9
Unibet: 1/5
Coral: 1/6
Betfred: 1/5
Betway: 17/100
10Bet: 1/5
Marathon Bet: 9/50
188Bet: 1/6
888 Sport: 1/5
StanJames.com: 2/5
Winner Sports: 2/11
SportPesa: 1/5
Betfair Exchange: 1/5
Choosing Where to Place Your Online Bets
All the online betting sites mentioned have sign-up offers that you can use when you're putting money on the Latics' promotion, so if you are not currently registered anywhere this could be a major deciding factor.
SkyBet, Ladbrokes, William Hill, Paddy Power, Coral, Betfred, Betway, 888 Sport and Winner Sport all have special offers that make betting on the English Football season easier and more potentially rewarding. Consider the odds themselves, the potential welcome bonuses and the special offers on Wigan Athletic league promotion wagers, in light of how much money you want to put down, and then decide where your best bet is.
There is every chance of Latics clinching a promotion or even an outright win, but they need to remain focused, keep their eye on the ball and their ultimate aim of a spot in the Championship.