Every year the Football Supporters Federation hold their annual awards, to reward Players, Clubs, Fans, Pundits, Bloggers, Fanzine writers, Podcasters, Radio and TV presenters and those who work to promote diversity in the game.
For the second year running, the Wigan Athletic Supporters Liaison Officers have made the shortlist for the SLO of the year.
Jason Taylor and Ian Wadsworth have been in their positions for three years now and are being recognised for the engagement they have with fans and staff at Latics, plus the help they give to other Clubs SLOs.
Jason says, "It is amazing to be on the shortlist for this award, most of what we do goes unnoticed so we have to thank those that have nominated us.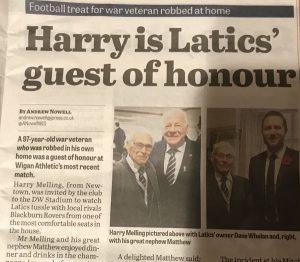 "We get involved with quite a number of differing tasks, whether it be pointing people in the right direction, giving explanations on why certain things happen, hosting fan focus groups or dealing directly with club staff to solve issues.
"One of the biggest things we were involved with recently, was the changing of the concourse catering company. This issue that was raised directly from the Fans Advisory Board Meetings we hold at the club.
"Last week we organised for a World War Two Veteran to come to the game as a guest, reacting to the terrible news that he had been robbed on his doorstep.
"There are many other things we get involved with, if you want to chat to us on match day, you will always see us in the Supporters Bar in the South Stand or walking around the Stadium, helping out both home and away fans where needed."
The SLO Award is judged by a panel, so no voting is required for it, but if you want to see the rest of the nominees and the rest of the categories, all the information is on the FSF website here. There is also a link there for you to cast your votes for those other categories.