There are just a couple of days to renew your season tickets at the cheapest prices.
As of the 1st June, prices will go up. They will increase further, plus you will lose the chance of your existing seat on July 1st. For a detailed version click here.
The official site says:
The first season card price deadline is approaching this Friday 31 May, with adult season cards available for £299, Over 65s available for £259 and 18-21/Students available for £199, before a slight increase from Saturday 1 June as shown below.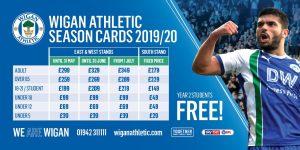 Prices across the South Stand are fixed, whilst Under 18s, Under 12s and Under 5s in the East and West are also fixed at their original prices.
Supporters can now purchase their season card online by [clicking here], calling 01942 311111 or by visiting the DW Stadium Ticket Office in person. As part of the new system we'll be using, your Client Code will alter.
Your new Client Code should have been emailed to you – you may notice that the final few digits are the same as your previous one. If you haven't received an email, contact the Wigan Athletic Ticket Office in person, call 01942 311111 or email ticketoffice@dwstadium.com