Wigan will come back after the International break fresh and ready to hit the ground running. The new owners will no doubt be centre of attention before the game as the Whelan's were at the last.
Before the break, the wheels were looking like they were falling off, but if you take the opposition in to consideration it was never going to be an easy task keeping up with the early pace.
We haven't heard of anything major happing behind the scenes either. Paul Cook seems to be happy with what he has been told and the players obviously want to get back out on the pitch.
We have been notified that Joe Royle will be on the Board of Directors and that he is 'chuffed' at being offered it.
Darren Royle has been announced as our Executive Chairman, taking over from David Sharpe and Dave Whelan before him.
Darren Royle was very quick in his first interviews, to state that getting Wigan Athletic back in the Premier League competing with the best of the best was definitely an aim for the short term.
After a 5 year absence it won't be easy and the Gaffer, Paul Cook, won't have unlimited funds to achieve it either, but there will be money there to buy the quality players needed.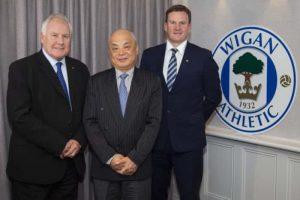 He also stressed that investment in the infrastructure of the club was a must, developing potential and achieving what Leicester did wasn't a flight of fancy.
We waved goodbye to the old guard at the Leeds game, no doubt this Saturday we will cheer in the new owners and board.
Playing Reading will hopefully be more fruitful than playing the whites and that gives us a great chance to take a bet on Latics turning the tide and getting back to winning ways. You can check the resent odds in sites like Amazing. Bet
Wigan's home form has been tremendous this year, with us only losing to Leeds so far. Momentum needs to be regained and a move up the table will get the fans back on board quickly.
Pease keep posted as we will be publishing details of what will be going on in the Supporters Bar by Friday and coach details for the Bolton game will also be out.