WASC News
Wigan Athletic Supporters Club are based in the South Stand Suite. On match day, our doors usually open around 2 hours 30 minutes before the game starts. The latest news item is below, but please keep looking back on the website for all of our latest news.
Kyle Joseph, another from Academy Product
This morning we were made aware that discussions with the Spanish bidders regarding their proposed takeover of the club have failed.
read more
As Christmas time approaches, we would again like to thank all of our members and Latics fans for their remarkable efforts during what has been a challenging year for Wigan Athletic.
read more

Kyle Joseph
The Wigan Athletic Academy is still producing great talent and it could well see us thrive in the future. We were upset to see the likes of Joe Geldhart leave the club, but we could see more of latest crop make it to the first team very soon.
The latest protégé to move up the ranks is Kyle Joseph who got his full first debut on Tuesday night at Blackpool. The 19 year old Scottish Youth International played an amazing part in the game, linking up well with the team and especially Joe Garner up front.
He nearly scored a great goal and was instrumental in setting up chances throughout the game. Ultimately we lost the game but the signs this young lad showed gives us all hope that better results are just round the corner.
In an interview with Latics TV, Kyle said:
"It's a proud moment for me and my family. First of all I'd like to thank my Mum and Dad for helping me get to this stage of my career because without their support I wouldn't be in the position that I am.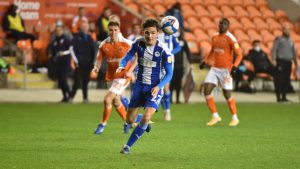 "I'd also like to thank the Academy staff. Gregor Rioch has given me a chance at the club and Kenny Williams took me from playing football on the park as a very raw player to the Academy here. They've believed in me all the way and hopefully this can now be the start of something special."
Unfortunately for Joseph and Latics, it was a narrow 1-0 defeat at Bloomfield Road, but the forward is taking the positives from the performance.
"It was disappointing for us not to get a result, but the one thing we can take from the game is that in terms of effort, we left everything out there.
"We worked hard and gave our all. We can't dwell on the result, we've got to keep looking forward, keep our heads up and go again against Chorley on Sunday in the FA Cup.
"The first goal will come. I work on my finishing every day, so hopefully I'll take one of these chances in the next few games."
"Joe Garner is brilliant. I work with him and watch his movement in training. I'm trying to take parts of his game and add them to mine.
"We played off each other well, we seem to be on the same wavelength and hopefully we get to continue with this good partnership we're creating.
"Joe's played nearly 500 games in his career and scored a lot of goals – he's someone I can work with and he's going to be a big influence on my career moving forwards."
"These games are creating great opportunities for lads like myself. We've all been waiting for these chances for a few years now.
"The Academy has been on the rise since Gregor came to the club and it's been great.
"We've had to take a lot on the chin early on and we might be a bit early ahead of the usual development, but I think we're taking to it like a duck to water.
"These opportunities are what we've been asking for, so now we've got to keep working hard, harder than we've done before."
Elsewhere on Tuesday evening, Peter Murphy's Under 18s won 5-0 against Harrogate Town in the first round of the FA Youth Cup at the DW Stadium. Joseph added:
"Congratulations to the 18s, hopefully they can kick on again and do better than what we did last season. It's a great start for the lads."

Want to Join The Supporters Club?
Wigan Athletic Supporters Club is a non-profit organisation which allows us to keep the costs low for travelling to away games, without compromising safety, comfort or security click here to apply.
Membership of the Supporters Club also gives extra benefits in the Wigan Athletic Supporters Club Bar, which provides a safe place for fans to go a couple of hours to chat and meet before most home games.
Click 'Get involved' for more information on the huge benefits of membership.