In the annals of football in Wigan there are a number of "firsts" – the first ever League game by Wigan Borough in 1921, the first game of Latics in 1932 against Port Vale Reserves, and Latics first League game at Hereford in 1978.  There have also been a number of rivalries over the years – Chorley and Macclesfield, Altrincham and Boston United, Bolton Wanderers and Preston North End.
One rivalry that has arisen in recent years has been that with Manchester City who gained passage to the 1999 Division Two play-off final through the "Hand of Goat".  The sheer delight at Latics' 1-0 win in the Worthington Cup on Bonfire Night 2002 will live long in the memory of those who were there.  But of course in the annals of Wigan Athletic's history nothing will compare with the 1-0 victory on 11 May 2013 in the FA Cup Final at the all new Wembley Stadium.
But Wigan's rivalry with Manchester City goes back a long long way.  To another first – the first time a team from Wigan reached the First Round of the FA Cup.
After a couple of low-key efforts to introduce football into Wigan, in 1897 Wigan County were formed and joined the then prestigious Lancashire League. The club played at the newly created Springfield Park, the first game taking place on 1 September 1897 with a friendly against Burton Swifts.
Burton Swifts had been founder members of the Football League Second Division in 1892 and the game against County was sandwiched between League home defeats of 3-1 by Small Heath (now Birmingham City) and 4-0 by Newton Heath (now Manchester United).  They had survived re-election in the previous season. They wore a variety of kits at the time: blue jerseys followed by maroon and orange quarters (probably what we'd now call claret and amber) and then by red and white quartered jerseys with dark blue shorts.  It is not recorded what they wore against County, although the red and white colours were worn from 1897.
The Wigan Observer's coverage of the game 3 days later matched today's local press coverage for in-depth analysis:
"Association  – Wigan County v Burton Swifts:- The newly formed Association team at Wigan began the season at Springfield Park on Wednesday with a match before 1500 spectators.  The very small attendance was owing to wet weather.  The opening mostly favoured the home team who led at the interval by a goal to nil.  On turning round the game was more evenly contested, each side in turn making grand rushes.  The Swifts scored from a free kick.  The match throughout was most interesting and the result was Wigan County one goal: Burton Swifts one goal." And that was it.
The paper's coverage of the local rugby team's game against Salford extended to three times the size of that report, containing details of the players and scorers.  Times don't change!!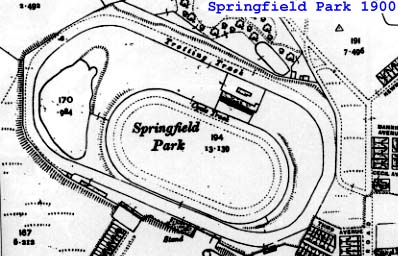 They played their first league game against Southport Central at Springfield Park on 11 September and won 5-1 in front of about 4,000 spectators.  The team that day was Bob Menham (ex-Everton) in goal; Holmes, George Molyneux (ex-Everton), Stevenson, William Greer (ex-Preston), Sharp, Jack Gordon (ex-Preston), Patrick Gordon (ex-Liverpool, Blackburn and Everton), James Sharples (ex-Manchester City), Morris and Snodgrass.  There was thus a lot of Football League experience in the side.  This wasn't a little group of local lads who had got together for a kick-around – this was a serious attempt to build a succesful team.  Jack Gordon in fact was the man who scored the first ever goal in the Football League when he scored for Preston on 8 September 1888 against Burnley, and Patrick Gordon appeared in the very first Liverpool team in 1892.
County finished the season in mid-table but in the FA Cup they defeated Fleetwood Rangers by 1-0, Hurst Ramblers 4-3, Blackburn Park Road 2-1 before beating League side Darwen 4-0 in the 5th Qualifying Round at Springfield Park having held out for a 1-1 draw at Darwen's Barley Bank ground.  Darwen had of course been one of the major driving forces in the growth of professional football in northern Lancashire in the 1880s as Darwen, Blackburn Olympic, Blackburn Rovers, Preston North End and Accrington moved the centre of footballing power away from the Universities and Old Boys' clubs of the South.  By 1897 however Darwen were struggling, and with crowds averaging 2,275 only survived in the League that season due to an increase in size of the Divisions.  They became defunct after the following season.
The draw for the First Round proper of the FA Cup gave the new Wigan club a noteworthy tie – they were drawn away to Second Division Manchester City.
City had been founder members of the Second Division in 1892 under the name of Ardwick.  They had changed their name to Manchester City in 1896, and played their home games at Hyde Road.  At the same time they changed their shirts from the old red and black stripes (which later were to make a reappearance as a change strip) and they adopted the now world-famous sky-blue.
Two years earlier Ardwick had narrowly missed out on promotion to the First Division when they lost in a series of test matches against Small Heath (now Birmingham City) and West Bromwich Albion, including a thumping 8-0 defeat by Small Heath.  They had seen their neighbours Newton Heath (later to be Manchester United) promoted at the end of the 1896/97 season but in 1897/98 season City were doing quite well and at the time of the match occupied second place in the table.  They had beaten Darwen by 5-0 in October, and later in the season were to put 9 goals past Burton Swifts.
City featured at the time Welsh international right winger Billy Meredith – "The Welsh Wizard".   In 1898 at the age of 23 he already had a number of Welsh caps.  His future career turned out to be a strange mix of success and controversy.  After being suspended for the whole of the 1905 season because of alleged match-fixing Meredith moved on without a fee being paid after being ordered to be transferred (along with the whole of the rest of the team) for receiving illegal bonus payments.  He went on to wear the red shirt of Manchester United after making 338 appearances in the sky-blue shirt, scoring 145 goals.  He was a great hit at Old Trafford but returned to City at the end of his career, and in fact made his last appearance in 1924 at the age of 49, having by then gathered 48 caps at a time when international appearances were limited to the Home internationals.  All of his caps were gained against England, Scotland or Northern Ireland.
Wigan County's tie was scheduled for Saturday 29 January 1898 and for preparation on 3 January Preston North End brought a strong team to Springfield Park for a friendly.  Andy Gara, who was later to win Irish caps while playing for North End, played in County's colours.
City's Hyde Road ground was a fairly large ground with a capacity of about 25,000 at the time but it was hemmed in by the Crewe to Manchester railway line so that engine drivers would often slow down as they went past for a quick look – shades of Burnden Park.  The approaches to the ground however were very cramped and uncomfortable.  Terraced houses blocked off the south, the railway viaduct the west, while on the east side were Boiler Works.  Bizarrely a railway line cut across the banking in the north-east corner.  The team's base in the Hyde Road Hotel could only be reached through a dank passage under the railway arches.  The ground had two stands but one visitor described it as being "a nightmare in wet weather".
It is reported however that the ground and its large noisy crowd had quite an atmosphere.  Musical instruments such as bugles and drums would sound as City attacked, and on big occasions, even fancy dress would be worn (Latics away on Boxing Day anyone?).  To read some match reports of the time it would seem a festival-like atmosphere regularly prevailed amid the incongruous surroundings.
County's players had been taken to Lytham for special training by trainer J Barton, while City had prepared by "inhaling the bracing air of Matlock for two or three weeks" according to the Athletic News.
City lined up with Charlie Williams in goal, Bert Read and Dick Ray at full back, a half-back line of Bobby Moffatt, William ("Buxton") Smith and Billy "Doc" Holmes, with forwards Billy Meredith, James Whitehead, Billy Gillespie, William ("Stockport") Smith and Fred Williams.  The two William Smiths were differentiated by their places of birth!!
County had less illustrious names: Mackay in goal, making only his second senior appearance for the team, Holmes and George Molyneux as full backs; half backs McIntyre, William Greer and Sharp, while in the forward line were Billy Meredith's hero Jack Gordon, Patrick Gordon, ex-City centre-forward James Sharples, Andy Gara and Cookson.  The referee was Mr Lewis.
County's jaunt at Lytham almost paid off as the game remained goalless right up to about 20 minutes from the end when the inexperienced Wigan goalkeeper, Mackay, who until then played superbly, made a weak clearance which allowed City to score and take a 1-0 victory.  It is ironic that when Wigan Athletic famously played City at Maine Round in the FA Cup in 1971 it was again a mis-hit clearance from the keeper that gave the home team the only goal.  The crowd was recorded as somewhere between  8,000 and 10,000.
City were knocked out of the competition in the next round by a single goal at Bolton and Nottingham Forest took the trophy.  But in 1899 they became the first team to be automatically promoted to the First Division and in 1904 won the first of their FA Cups – ironically against Bolton.
As for Wigan County their life was short-lived.  They continued to perform with mediocrity in the Lancashire League although in 1899 they did bid for membership of the Football League.  While the bid was not successful they actually got seven votes, while Coventry City received none.
Things rapidly went downhill and by the summer of 1900, with little money or support having won just 4 games out of 28, the club folded.  However, another club, Wigan United, arose at the same time and joined the Lancashire League and it is quite probable that United were in fact just a continuation of County.
As a postscript we could mention the fact that at the time United were formed Wigan Rugby club were also struggling, and the Eggchasers became sub-tenants of Springfield Park for a while, the clubs using the ground on alternate Saturdays.  But as for the idea of sharing a ground with the rugby on a permanent basis?  It'll never catch on.
---