Following our third relegation in last five years, Wigan Athletic once again find themselves in League One. The mood among the Wigan fans could use a lift, but there is a new glimmer of hope following the appointment of Paul Cook as the manager at the end of the season.
Cook arrived with a reputation at DW Stadium after leading Portsmouth to the League Two title last season. Before his stint with Pompey, Cook had also guided Chesterfield to League Two title in 2013-14. The following season, he led the Spireites to a playoff spot in League One on a very limited budget.
At first glance, the appointment of Cook by Wigan has all the ingredients of success and looks like a smart decision by the club, reflected also by the shorter odds offered at bigfreebet.com. It's still very early days for Cook at Wigan, but he can expect to have a full backing of the fan base when the season kicks off in August.
Cook's Pompey side ended the season with the best defence and the second-best attack in the league. Meanwhile, Latics finished last season with the joint-worst attack in the league with 40 goals.
The 50-year- old, who started his professional career with Wigan and made almost 100 appearances over two spells, likes his sides to play the game in the right way and has shown preference for possession-based football in the past. He says that he sets out his teams to with the aim of entertaining fans and that's good news for Wigan fans, who were subjected to dross and unimaginative football last season.
No Wigan player managed to score more than six goals in the Championship last season and Cook's main job in the market this summer would be to add goals to his side. Latics are yet to make a significant signing, but we are said to be in talks with winger Gavin Massey.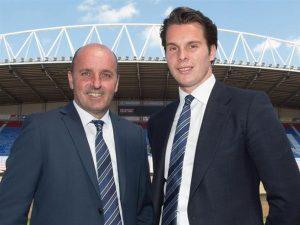 Both Cook and chairman David Sharpe have talked about keeping the bulk of the squad intact, however, Cook would need to trim the wage bill of his side to suit life in League One.
The likes of Matt Gilks and Jake Buxton have already departed the club and more departures are expected in the future.
Cook has a real job on his hand to build a new team at a new club, but, under his guidance, Latics are second-favourites to win promotion back to Championship according to the bookmakers, and could help bring back the good times to the DW.
Please visit our chosen Charity and sponsors: