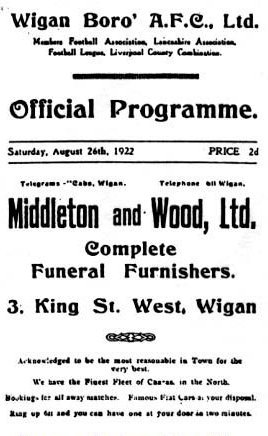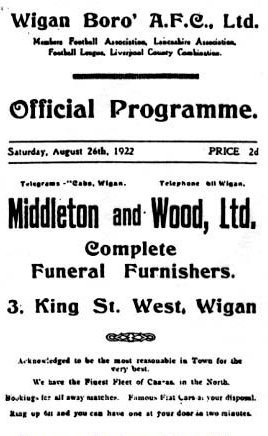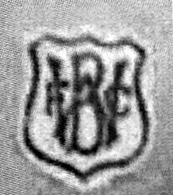 Wigan Borough were formed in October 1920 when their immediate predecessors Wigan United were forced to turn professional after it had been discovered that the club had been paying their amateur players for "lost time".
The new team took on the Lancashire Combination fixtures of United, and played under the name of Wigan Association in November 1920 until the Lancashire FA agreed to a name change to Wigan Borough.
This move was initiated to ensure that confusion did not arise between the new team and Wigan FC – the town's rugby league team.
The team audaciously made an application to join the newly formed Football League Third Division (North) for the 1921/1922 season, despite finishing 17th out of the 18 teams with only 6 wins from the 34 games.
At the Football League meeting in mid-March 1921 only 3 teams were elected from the Lancashire Combination to play in the new Division – the champions Barrow, 6th place Accrington, and astonishingly Wigan Borough.
The truth is of course that the Football League wished to spread the word of football into rugby outposts – and where better of course than in Wigan?
Borough's first game as a League club was a visit to Springfield Park on 4 May 1921 for a friendly match by Arsenal.  Arsenal were scheduled to play a League game at Anfield against Liverpool on 7 May, having drawn 0-0 with them on the previous Saturday – it was normal at the time to play back-to-back matches between teams.
The game resulted in a 2-1 victory for Wigan.  The game didn't do the Gunners any good either, as they lost 3-0 at Anfield at the weekend.
Playing their home games at Springfield Park Wigan Borough's first Football League game was away on 27 August 1921 to Nelson at their Seedhill Ground.
Borough suffered an early set-back when the home team scored in the opening minutes through Billy Halligan, a former Irish international.
This was actually the first ever goal scored in the newly formed Third Division North.  'Boro however came back with goals by Frank Hodges and Haydock-born James Twiss before half-time to win 2-1.
The team that day was: William Bromilow; Joseph Bibby, Bill Jenkinson; Fred Woodward, John Hobson, Owen Williams; Joe Campbell, Frank Hodges, James Twiss, George Brodie and John Knight.
Nelson lined up in their blue jerseys as Harry Heyes; Tom Lilley, John Steel; Cecil Marsh, David Wilson, Robert Wilde; Joe Eddlestone, Harold Andrews, Billy Halligan, Harry Hargreaves and Wilfred Proctor.  The crowd was 12,000 and the gate receipts £430.
A Lancashire Cup tie against Southport on the following Wednesday attended by 10,000 including a large following from Southport was followed by Springfield Park's first Football League game, the return tie against Nelson.  9,000 fans came to the match paying receipts of £430.  Despite that, and the record signing by Borough of Billy Herbert, an inside right from Bolton, the visitors went home 4-1 winners.
The Wigan team finished their first season in the League in 17th position, having played 38, won 11, drawn 9 and lost 18.  They scored 46, but conceded 72.  The average crowd was 7,625. The full record for the season can be found HERE.
Borough started out life in red and white halved shirts with white shorts and black socks.  In 1924 they changed to green shirts with white shorts and black socks with green and white ringed tops (a pattern described as "cadet rings").
While wearing these colours they were known as "The Linnets".  In 1926 they changed their colours again to black and gold hoops with white shorts and black socks with gold rings.
There were thoughts of adopting a new nickname of "The Wasps", but the idea didn't really catch on.
In 1922/1923 season they recorded a 9-1 win over Lincoln, and but for a slump in form towards the end of the season (sound familiar?) may have  reached the Second Division.
They did reach the Second Round of the FA Cup, losing 4-2 to QPR on 3 February 1923 before a then-record crowd of 22,476, although the actual crowd was nearer 25,000 as queuing fans rushed the gates before kick-off and broke in.
The team that day was Alex Hunter; Harry Fare, Sam Currie; Andrew Findlay, Frank Whitfield, Owen Williams; George Jones, Henry Spencer, Archie Williams, Harry Dennison and Arthur Stevenson.
A number of these players can be seen in the team group below and Currie can be seen further down.
It is interesting to note that only Owen Williams remained in the team from that first match just 18 months earlier.
That season's FA Cup of course finished with the first ever Wembley final between Bolton and West Ham.
On the down-side Boro also faced a long-running factor of football in Wigan of low attendances at  times, and on 13 December 1926 they welcomed the Football League's 9th ever lowest crowd of 644 to Springfield Park when they entertained Barrow.It must be said however that the game was played on a Monday afternoon when most people were working.
The missing crowds actually missed a treat as Boro won 8-0!
The lowest Football League attendance by the way is 469 who saw Thames beat Luton Town 1-0 on 6 December 1930.
This was in the West Ham Stadium, a stadium that was claimed to have a capacity of 120,000.
Let no-one mock the crowds at the JJB!!
Pat Nelis who joined Borough in 1925 from Nottingham Forest having gained one Irish cap A centre-forward who only managed 1 goal in his 16 appearances for Wigan
Wigan Borough's best season was 1928/1929 when they finished fourth in the League and reached the Third Round of the FA Cup, losing on 12 January 1929 to Sheffield Wednesday by 3 goals to 1 in front of a Springfield Park record 30,443 crowd, which provided gate receipts of £1,820.
Soon after came the record League attendance on 1 April 1929 when 15,500 saw a game against Stockport County.
Borough always struggled financially, and in fact it is testimony to some dedicated work at the time that they survived so long.
They did attract some big names.
In 1921 Bert Freeman signed from Burnley.
He was a centre-forward who scored the winning goal in the 1914 FA Cup Final when Burnley beat Liverpool in front of King George V.
He was a prolific goalscorer, and had previously played for Aston Villa, Woolwich Arsenal and Everton.  He had won 5 England caps before the First World War.
His record at Turf Moor was of playing 166 League games with 103 goals.
In his 25 games for Wigan he scored 13 times.
In 1930/31 season Borough had Frank Barson, who had played in Villa's 1920 FA Cup winning team and been capped once by England, on the books.
He was considered one of the first "hard men" in football, and was often sent off and suspended!
He was 39 at the time and at the end of his career but he appeared 19 times in a Wigan shirt.
His last appearance was against Accrington Stanley on Boxing Day 1930 when he got sent off in the 83rd minute, an event which led to a late collapse by the Wigan defence (heard that before!!) and Borough scraped home 3-2 in front of 5,400.
The beginning of the end was towards the end of the 1930/1931 season when the club struggled to find the players' wages.  Only 600 paid to see the match at the end of January against Gateshead, although in fairness the game was played in a snowstorm and should have been postponed.  The end of season game on 2 May 1931 attracted just 3,000 who saw Borough lose by a single goal to Lincoln.
With £806 owing, the League issued an ultimatum – pay up by 1 May or be  suspended.  By selling a couple of players, long-serving Arthur Welsby to Sunderland and Jack Moran to Spurs, and by early selling of season tickets the club pulled through, but only  temporarily.
The Great Depression hit everywhere, not least of course in Wigan, but form on the field kept crowds below the 3,000 level.  They lost 4-0 in the first game of the season at Chester who were playing their first ever League game. Boro's share of the gate receipts from the 13,000 crowd – £100 – helped slightly but the die was cast.
Finances were at rock bottom, and another League ultimatum of pay up or resign couldn't be met.  A public appeal seemed to indicate the people of Wigan just didn't want a football team, and on 24 October 1931 Wigan Borough played their last League game at the Racecourse Ground, crashing 5-0 to Wrexham.
The Borough team that day was: Jackie Mittell; Arthur Hartley, Bill Wade; Jack Hallam, Jack Martin, Henry Hurst; James Cherry, Mick Kilourhy, Albert Valentine, Alf Oakes and Tommy Moon.
For the record Wrexham's team was: Wilf Burrows; Alf Jones, Jack Brown; Ralph Burkinshaw, John Clayton, John Donoghue; Billie Rogers, Chris Ferguson, Tommy Bamford (who scored 1 goal), Sam Taylor (2 goals) and Tommy Lewis (2 goals). Wigan Borough resigned from the Football League on Monday 26 October 1931.
A final reserve game at Southport saw a 2-1 win for the 'Boro, but the club went into voluntary liquidation and the club's record for that season was wiped out from the Football League's records.
All was not lost however and on 9 May 1932 that Wigan's Mayor, Cllr Hipwood chaired a  public meeting at Queens Hall which resulted in the founding of Wigan  Athletic.  But it still wasn't until 19 August 1978 that the public of Wigan again had a League side to cheer on.
---
The club's full record was
SEASON    LEAGUE     P    W    D    L    F    A    P      POS
1920-21   LAN C     34    6    8   20   41   79   20     17/18
1921-22   FL-3N     38   11    9   18   46   72   31     17/20
1922-23   FL-3N     38   18    8   12   64   39   44      5/20
1923-24   FL-3N     42   14   14   14   55   53   42     10/22
1924-25   FL-3N     42   15   11   16   62   65   41     11/22
1925-26   FL-3N     42   13   11   18   68   74   37     17/22
1926-27   FL-3N     42   11   10   21   66   83   32     18/22
1927-28   FL-3N     42   10   10   22   56   97   30     20/22
1928-29   FL-3N     42   21    9   12   82   49   51      4/22
1929-30   FL-3N     42   13    7   22   60   88   33     18/22
1930-31   FL-3N     42   19    5   18   76   86   43     10/22

The record for 1931-32 was expunged from the League's records.
 (Thanks to FCHD for the table)
The totals amount to:
| | P | W | D | L | F | A |
| --- | --- | --- | --- | --- | --- | --- |
| Home | 206 | 117 | 47 | 42 | 429 | 219 |
| Away | 206 | 28 | 47 | 131 | 206 | 487 |
| Total | 412 | 145 | 94 | 173 | 635 | 706 |
Wigan Borough's record against all individual opponents can be viewed here. (A new window will open)